Affiliations
Affiliations
IJO Master Jeweler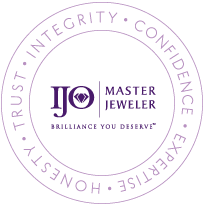 The Independent Jewelers Organization is a group of over 800 independent retail jewelers nationwide, which offers supreme quality and unmatched service, providing an excellence that customers can count on. As our area's exclusive Master IJO Jeweler, we maintain a leading role by keeping up with the latest fashions and trends in fine jewelry, educating ourselves about every aspect of our industry, including innovative technologies, and listening carefully to each one of our customers. We are able to offer the finest diamonds in the world at the best value. We practice a strict ethical code of conduct regarding the importance of trust, integrity, expertise, honesty and quality, as it is our promise to deliver the Brilliance You Deserve ®.
Jewelry Creations Inc. has been an active member of the Independent Jewelers Organization since 1987. For more information on IJO visit: www.ijo.com
Jewelers of America is the national trade association for businesses serving the fine jewelry retail marketplace. Their primary purpose is to promote consumer confidence in the jewelry industry. Since 1906, they have been advancing the fine jewelry industry through advocacy in public, government and industry affairs; and have been the leader in the development of high ethical, social and environmental standards among the retail jewelry trade. Jewelers of America also provides members with a wealth of products, services and cost-saving opportunities — specifically designed for jewelry retail professionals.
Jewelers Vigilance Committee (JVC) is the sole legal compliance expert in the jewelry industry;
established 1917 to educate and protect all levels of the jewelry industry against liability,
litigation and to stop negative publicity. JVC is considered the industry's leading authority on
legal compliance and is a champion of safeguarding the industry's integrity.
Jewelers for Children was founded in 1999 by the U.S. jewelry industry with the mission of helping children in need. Since its inception, JFC has donated more than $43 million to programs benefiting children whose lives have been affected by illness, abuse, or neglect through our charity partners St. Jude Children's Research Hospital®, the Make-A-Wish Foundation® of America, the Elizabeth Glaser Pediatric AIDS Foundation, and the National CASA Association. JFC also provides support to the Make-A-Wish Foundation International and the Santa-America Fund. This nationwide success is due to the continuing generosity of jewelry trade organizations, jewelry and watch manufacturing companies, jewelry retail stores, individual jewelry professionals, and jewelry consumers.
Founded in 1946, Jewelry Information Center is considered to be the objective authority on fine jewelry and watches. JIC.org provides information about fine jewelry, jewelry trends, savvy shopping tips, and jewelry care and cleaning.
Links To Nonprofits We Support
Below are links to some of the organizations we support and hope you will too. Please refer to them at your leisure. They are great community partners and we are very proud to be part of their support system.
Dover Chamber of Commerce
Independent Jeweler Organization
Jewelers of America
Jeweler Vigilance Committee
Jewelers Information Council
Jewelers for Children
Cocheco Valley Humane Society
We Care Packers
Casa
St. Jude
Make a Wish
Elizabeth Glazer Pediatric Aids
Amy's Treat
Dover Food Pantry
Rochester Chamber of Commerce
Boy Scouts
Girl Scouts
Better Business Bureau